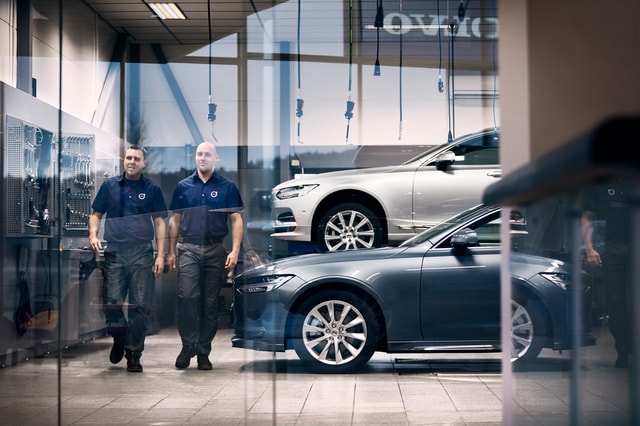 Treat Your Tires Well with Service From Volvo Cars Hilton Head
Whether you want a new look for your vehicle, a new set of tires, or a tire rotation, Volvo Cars Hilton Head can assist in making your vehicle look great or function better. Many buyers do not understand how many options they have in tires for their vehicle, but there are quite a few out there. Simply swapping tires can give your vehicle an entirely different look. Sometimes, you do not have an option to swap tires; rather, it is necessary due to wear and tear or a blowout. Whatever reason you have for swapping tires on your vehicle in Bluffton, our professional technicians in our service center can help.
Choosing the Right Type of Tire for a Swap
Some buyers come to our Volvo service center with a specific type of tire in mind, while others need some guidance deciding which type of tire to buy for their vehicle. If you are searching for functionality, there are various tire types to choose from for a swap. Summer- and winter-specific tires are a great option for geographic locations with distinguishable seasons. Each one of these functions better and maintains traction the best during the said seasonal changes and their effects on road conditions.
Other tires, like all-season tires, are performance-based. These tires may have limitations on the type of surface they can drive on, but they are the most versatile available. Additionally, if you need a tire swap for aesthetic purposes, there are many options to choose from at our dealership near Hilton Head Island. Larger tires look better on trucks and rugged SUVs, while low-profile tires look better on sports cars. Ultimately, the choice is yours, but we can help provide some guidance at our parts center. 
Consider the Costs of a Tire Swap
The resulting cost of a tire swap varies greatly based on the type of tire selected, but a few service fees remain consistent across all tire swap services. Most service centers charge approximately $15-45 per tire for a swap service. Newer vehicles have tire pressure sensors that notify drivers of low tire pressure, so these will need to be reset and calibrated to the proper tire for correct readings. Not to mention, sometimes these sensors will need replacement. Tire mounting and balancing must also occur during a tire swap to ensure safety and proper weight distribution. These services also help extend the life of your tires for your Beaufort adventures.
You Can Choose a Partial Tire Swap
Sometimes, a vehicle owner may not need to switch out every tire. Many Port Royal drivers want to change out one or two tires. Whether one tire starts wearing out or you need to replace the back two tires, our dealership can complete a wide array of tire swap requests. Generally, the back two tires on a vehicle take the brunt of the braking force, so these can wear down faster. Therefore, Hardeeville drivers should consider periodic tire rotations.
Schedule Tire Repair and Replacement
Sometimes, drivers do not have an option to swap their tires. It is a necessity based on deteriorating conditions or damage. Our professionals can discuss whether to replace one tire or a whole new set in this type of tire swap. We work hard to get our customers great deals on any tire swap repair service because we understand how costly tires can appear. If you have any questions about the conditions of your tires or would like an upgrade, come to Volvo Cars Hilton Head.
Service Hours
Monday

8:00 AM - 5:00 PM

Tuesday

8:00 AM - 5:00 PM

Wednesday

8:00 AM - 5:00 PM

Thursday

8:00 AM - 5:00 PM

Friday

8:00 AM - 5:00 PM

Saturday

Closed

Sunday

Closed