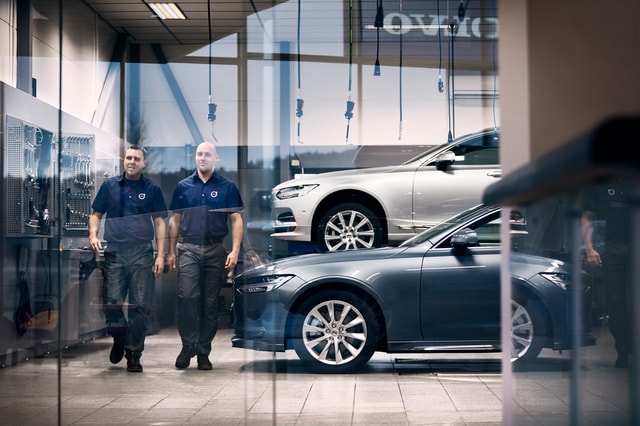 Exceptional Tire Rotation Services at Volvo Cars Hilton Head
Schedule Tire Rotation Online in Bluffton
When you're on the road for lengthy periods, your tires will naturally start to erode. Thankfully, though, there's no need to panic because the professionals at Volvo Cars Hilton Head are here to handle your tire rotation needs with the highest level of service. We are actively engaged in rotating tires and are highly informative about the process with all our customers in Beaufort.
Our certified technicians are highly trained to get every tiny detail right and go above and beyond the bare minimum to give you the proper rotation with efficiency and accuracy. It can be risky taking your car into a standard shop because they might not conduct a thorough inspection, and you could get overpriced, which is never lucrative.
Why Service With Us?
Here at our Volvo Dealership in Bluffton, we are concerned with the final result being perfect for an affordable price that will put a smile on your face. We are on a mission to educate people about how taking your car for a tire rotation at our dealership is a better idea than a traditional shop. Our team understands the subtleties of tire rotations, and we will get them secured perfectly with no worries or anxiety regarding whether or not the job was conducted correctly.
Benefits of Scheduling Tire Rotations at Volvo Cars Hilton Head
Our full-service Volvo dealership is committed to allowing you to enjoy the maximum benefits of our tire rotation services and keep you informed of the tremendous difference it makes for the long-term health of any vehicle. By taking your car into our shop, you'll immediately realize the difference we offer in speed, reliability, and final low pricing for high-quality tire rotation services.
One of the tremendous benefits of having your tires rotated regularly is that they will live a longer and healthier life. Tires can be expensive, and if you let them degrade too far, you'll have to buy new tires more often because things can get inefficient and even dangerous. Rotating your tires with our dealership near Port Royal means that they will wear more evenly and will extend their life beyond expectation. We will tell you exactly when you need to come back and rotate again to reach your maximum tire potential and save you money!
We Offer Routine Auto Care & Friendly Customer Service
Our tire rotation services will help you achieve a much smoother ride than if you took it elsewhere because we are meticulous in making sure it is done right. Your car will be much safer overall because we are experienced with testing to make sure everything is tight and secure. You will save a lot of money knowing that you won't have to replace them individually over time, and a much quieter ride awaits you after we are done!
Schedule a Service Appointment
Now that you have a firm grasp of the high-quality precision of our tire rotation services at Volvo Cars Hilton Head, it's time to step outside the box and give us a shot to bring your tires back to health and extend their life for years to come! You are well on your way to having even tread and getting your car serviced by professionals who have deep empathy for your situation, and that's why we offer such affordable pricing without compromising on quality.
Contact Us
Elevate your tire rotation experience in Hardeeville by contacting us today to set up an appointment, and we will respond quickly to your needs. Everything is copacetic and clear when you work with us, and we won't waste your valued time!  Please call or contact us online to learn more today!
Service Hours
Monday

8:00 AM - 5:00 PM

Tuesday

8:00 AM - 5:00 PM

Wednesday

8:00 AM - 5:00 PM

Thursday

8:00 AM - 5:00 PM

Friday

8:00 AM - 5:00 PM

Saturday

Closed

Sunday

Closed