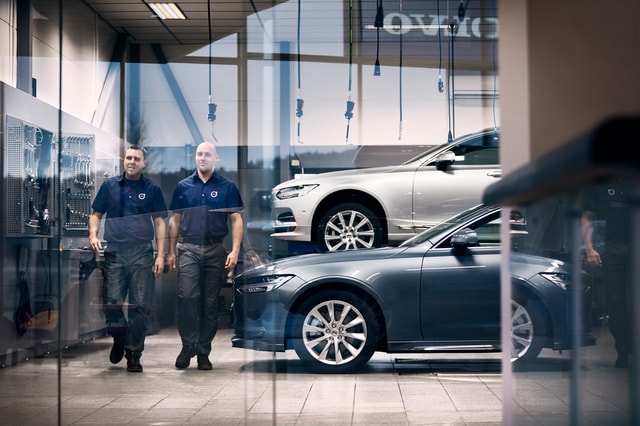 Volvo Inspections Performed Daily at Volvo Cars Hilton Head Near Bluffton, SC
Volvo Cars Hilton Head welcomes all Volvo luxury SUVs, sedans and wagons for the application of a multipoint inspection.
Near Hilton Head Island, it should benefit Volvo owner and lessee alike from an inspection seeking to uncover hidden issues before becoming larger problems. This performed by Volvo factory-trained technicians whose expertise is Volvo and nuances therein.
The Volvo Service Inspection Regime
There are several aspects to a Volvo Service inspection regime. And these cover the entire length of your Volvo XC90.
Usually during a Volvo Service oil change, your Volvo S60 will meet with the same inspection parameters. Given the need of fresh oil installed every few thousand miles, it's an opportune time to inspect each facet and system comprising Volvo excellence in safety and performance.
In essence, having your Volvo XC60 on the lift provides ample insight into areas, systems and parts largely unnoticed until it's too late.
So, here are those various aspects to a Volvo Service inspection undertaken near Port Royal:
Tire Inspection
Everything rests upon your tires. And given rubber composition and the ways this can be compromised, each tire is removed and examined from sidewall to tread. As well, certain patterns of tread wear most probably signal issues with front-end wheel alignment or faulty brake parts.
In any event, tires are duly rotated from well-to-well. This mitigates uneven tread wear while promoting healthy fuel economy.
Brake Systems Examined
It's obviously all important for your brakes to be in good working order, with parts and components in optimal condition. Should one part be too corroded, it may very well affect other parts -- the mission of which is to work in concert on Bluffton roads.
With the tires of your Volvo V90 Cross Country removed, brake systems encompassing rotors, calipers, pads and fluid lines are all inspected for wear and corrosion. Though, if something is awry, you'll be alerted to the issue via shuddering or grinding when trying to apply the brakes in Hardeeville. Squeaking also becomes an annoyance when coming to a smooth stop.
In all, only Volvo Genuine Parts are installed should something need repair or reconditioning.
Engine Components Checked
With the lowering of your Volvo XC40 to ground level, the various hoses and belts surrounding your Volvo 2L, four-cylinder engine are checked thoroughly. Loose belts may slip off, thereby immobilizing your Volvo luxury sedan wherever it was resting. And ill-fitting hoses could spew either oil or fluid prior to becoming fully disconnected.
Fluid Reservoirs
Certain Volvo systems need the lifeblood of fluids to work efficiently. During a Volvo Service inspection near Hilton Head Island, reservoirs housing steering fluid, brake fluid and wiper-washer fluid are checked for integrity and leak points. Should everything pass inspection, fluid levels are topped off for maximum performance.
Vehicle Batteries
Vehicle batteries are essential systems onto themselves.
Volvo luxury SUVs have a multitude of systems drawing power from the battery at one time. So, a weakened or worn battery might negatively affect overall Volvo performance and safety standards. This cascading impact may be prevented when the battery is tested for strength and capacity.
Though, it may prove a simple cleaning of plugs and connections of toxic residue could benefit the battery alone.
Windshield Examined
Small chips upon your Volvo S90 windshield should never be ignored. From a minute chip may come a lengthy crack. This may then spur other cracks to form, creating a web-like design across the entire windscreen. At this moment, it's best to remedy the situation immediately.
Thorough Volvo Service Inspections at Volvo Cars Hilton Head Near Port Royal
Visit our local Beaufort area Volvo service center for more information on Volvo Service inspections and benefits.
Service Hours
Monday

8:00 AM - 5:00 PM

Tuesday

8:00 AM - 5:00 PM

Wednesday

8:00 AM - 5:00 PM

Thursday

8:00 AM - 5:00 PM

Friday

8:00 AM - 5:00 PM

Saturday

Closed

Sunday

Closed