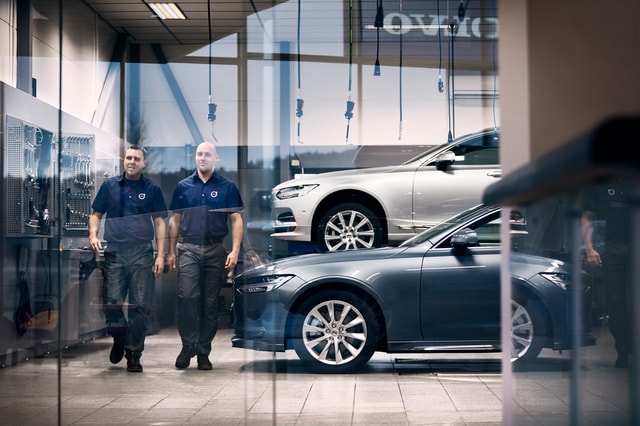 Volvo Cars Hilton Head Offers Battery Swap Service Near Hilton Head Island, SC
Vehicle batteries can be a caustic affair. As well, there are many mitigating factors that will drain your battery during those first three to five years of optimal performance.
However, whatever you suspect in terms of your Volvo battery, it's advisable not to diagnose or handle a faulty vehicle battery yourself.
Let highly trained Volvo Cars Hilton Head technicians get to the bottom of your Volvo battery issues near Bluffton, and swap out if necessary with Volvo Genuine Batteries.
What Factors Inhibit My Volvo SUV Battery?
With time, a vehicle battery will lose its capacity to store the ample electricity needed to sustain vehicle systems.
And if physical damage may occur such as cracks in the casing, not only will systems be in decline but you face an environmental hazard. Your physical safety may be compromised as well given the toxicity of all vehicle batteries. So, never touch a leaking battery or the caked residue around positive and negative connections without thick gloves and eyewear. This, extremely important.
Here are the factors that weigh and wear on vehicle batteries:
The number of times you start your Volvo will sap efficiency overtime.
After three years, all vehicle batteries start to wane in terms of power.
Cold weather may be a culprit when trying to start your Volvo XC60. Yet, warmer weather does more to evaporate battery fluid while destroying cells. Given our surroundings in Beaufort and Port Royal, Volvo batteries might see a bit more weathering as a result - in spite of Volvo efficiency in all matters of design and performance.
The battery works in concert with other parts like the alternator and voltage regulator. Should these parts be faulty or worn, they will reduce the battery's charging capacity when starting the vehicle, rolling down powered windows and with light functions.
When Should You Have the Battery Diagnosed and Replaced?
When suspecting a battery issue, take all the supporting parts and systems into consideration. By doing so, the skilled technicians at Volvo Cars Hilton Head will examine your charging system first before being led to other factors. Here, the battery's state-of-charge and reserve capacity will be tested.
But a simple battery swap will do nothing to restore power and performance without inspecting the alternator and voltage regulator. A loose or worn belt that drives the alternator could create battery mishaps. As well, damaged electrical connectors or cables will do much to limit a battery's proper functioning.
In all, it's beneficial to get the complete charging and electrical system properly examined for all its separate parts and performance in total. At Volvo Cars Hilton Head, you're assured of all those parameters and their remedying.
Battery Swap at Volvo Cars Hilton Head Near Hardeeville
When it has been established your Volvo will need a replacement battery, Volvo Cars Hilton Head may offer battery specials in terms of servicing and parts discounts. The main goal is to maintain your Volvo sedan, SUV or wagon toward optimal performance throughout.
As it is, only Volvo Genuine Batteries are installed. They have been specifically designed and engineered for all Volvo vehicles. And like Volvo Genuine Parts used in repairs, certain warranties may apply over the course of the battery's life.
In all, it engenders a certain peace-of-mind when tackling any issues large or small. Your Volvo and its safe operation mean everything to the Volvo Cars brand.
Volvo Cars Hilton Head for Volvo Genuine Battery Swaps
In light of the all-encompassing parts and systems comprising batteries, service your battery at Volvo Cars Hilton Head.
Make a servicing appointment, or drop by our local Bluffton battery-service center today.
Service Hours
Monday

8:00 AM - 5:00 PM

Tuesday

8:00 AM - 5:00 PM

Wednesday

8:00 AM - 5:00 PM

Thursday

8:00 AM - 5:00 PM

Friday

8:00 AM - 5:00 PM

Saturday

Closed

Sunday

Closed