Shop New 2023 Volvo V60 in Bluffton, SC

Sales Hours
Monday

09:00 AM - 06:00 PM

Tuesday

09:00 AM - 06:00 PM

Wednesday

09:00 AM - 06:00 PM

Thursday

09:00 AM - 06:00 PM

Friday

09:00 AM - 06:00 PM

Saturday

09:00AM - 05:00 PM

Sunday

Closed
The Volvo V60 Sets the Bar for Other Bluffton SUVs
Wagons are built at Volvo with the intention of making the driving experience that much more luxurious. The Volvo V60 was built with comfort and class in mind and is designed to highlight those aspects of the vehicle. With a stunning exterior and a streamlined and brilliant interior, the V60 is guaranteed to leave an impression on you.
The new Volvo V60 brings many things to the table that haven't been seen before. Its relatively reasonable price tag might fool you into thinking that it doesn't have an excess to offer, but that assumption is a mistake.
The V60 offers a variety of advanced safety, design, performance, and technological features that set it aside from its competition. With a wide selection of new Volvo vehicles as well as full-service parts and service centers, Volvo Cars Hilton Head is your source for all things Volvo in the Port Royal area.
What's New?
The new Volvo V60 has changed a lot from its predecessor. One major change is the removal of the T6 all-wheel drive powertrain. Other changes include an updated rear cargo space, increased comfort in the front seats, and a great deal of new and improved safety features. Read on to view specifics.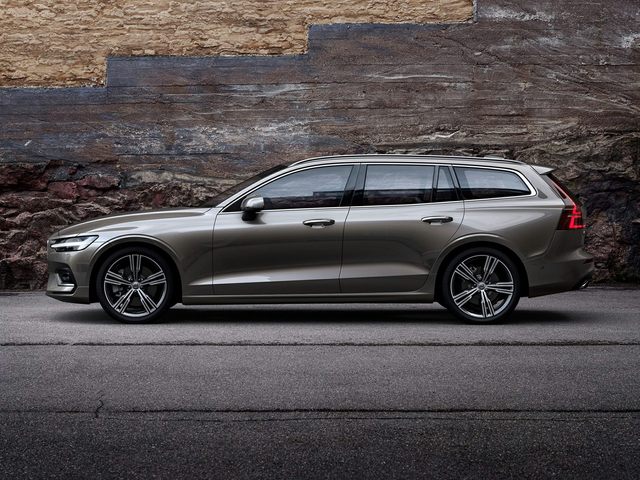 Performance
Let's begin with the performance features of the Volvo V60. Right off the bat, its engine and horsepower capabilities are excellent, with a 2.0-liter displacement that delivers up to 250 horsepower. With a torque of 258 pound-feet and a torque-rev max of 2,500 RPM, driving the new V60 will feel as smooth as you want it to.
The performance features of the V60 are where its exceptionality becomes apparent. The V60 brings with it the ultimate in drivability. Standard all-wheel drive ensures you won't have a problem handling turns, winding roads, or treacherous roads. When that smooth highway transitions into a poorly maintained rural nightmare, that's when the Drive Modes come into play.
The new Volvo V60 allows you to switch between a variety of Drive Modes, each specifically designed with a specific purpose in mind. The Eco mode helps to conserve gas and power usage, allowing you to leave as small a carbon footprint as you'd like. The Comfort Mode is the default mode of the V60 and delivers the smoothest and easiest driving experience possible. The Off-Roading mode is for those bumpier rides, while the Dynamic mode ensures you'll be able to make good time when you have to.
Each Drive Mode works with the engine, brakes, stability control system, power steering, and the automatic gearbox to form the combination best suited to your driving needs in the Hardeeville area. The new V60 also gives you the capability to design your own custom drive modes, so you can customize this machine to perform exactly how you want it to.
Safety Features 
The new V60 comes with a range of safety features to help its drivers and passengers feel right at home. The V60 offers City Safety, an innovation by Volvo engineers that uses camera and radar technology to help drivers stay aware of their vehicle and its surroundings.
City Safety helps you stay aware of nearby traffic, and identifies any potential hazards for you, be it animal, pedestrian, objects, or other drivers. By warning you of any potential collisions, this safety system ensures you're as alert as possible. If your reaction time isn't adequate, City Safety can also automatically apply your brakes in order to prevent any collisions, as well as veer your V60 away from potential dangers using Steering Support.
The V60 also comes equipped with Run-off Road Mitigation, a piece of technology designed to keep you on the road and within the lines at all times. Using Steering Support and automatic brakes, the V60 will prevent you from running off the road, and detect if you're doing so in the first place.
In the event of an off-road collision, the front-seat frames are equipped with an energy-absorbing design in an effort to dissipate any trauma from a collision. Seatbelts will also automatically tighten in the event of a crash in order to keep passengers safe and secure in their seats.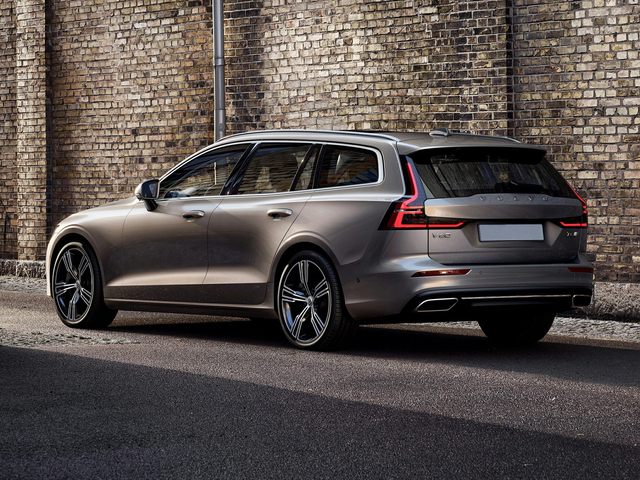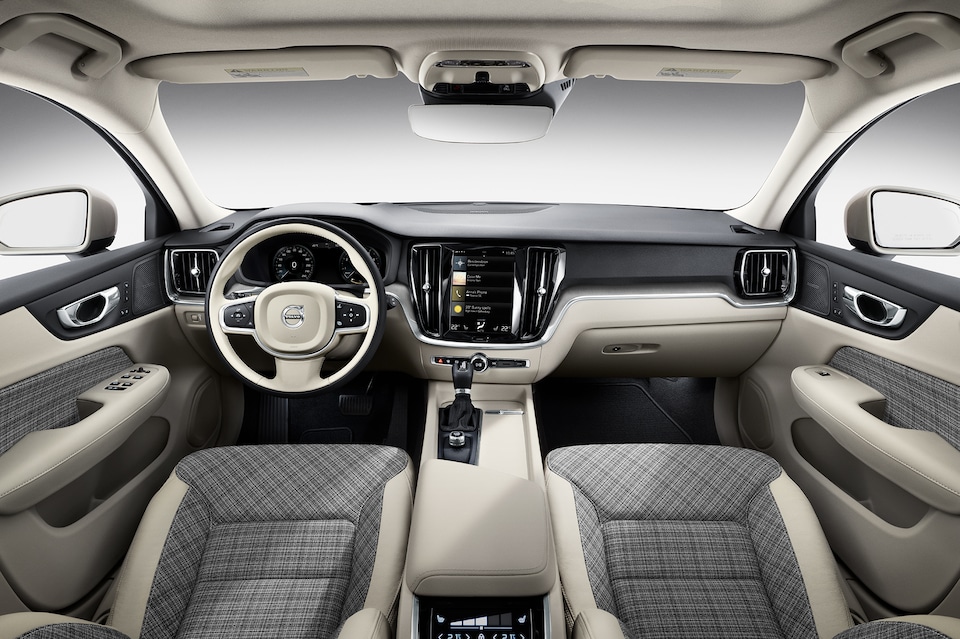 Design Elements
The V60 features a variety of design elements that help it to stand out from other models, with both its interior and exterior being equipped to leave an impression. From its headlights to its boron steel frame to the shape of the vehicle itself, every aspect of the V60 was carefully sculpted with a specific purpose in mind.
The interior is well-illuminated and minimally decorated, given the vehicle's focus on performance rather than pomp. Large windows keep this wagon flooded with light, while a panoramic moonroof keeps you looking upward and outward at all times. Specially tinted glass keeps heat down and UV rays out.
Technology
The V60 comes fully equipped with advanced technologies in order to maximize the enjoyment of both its driver and passengers. With a sophisticated entertainment system, easy device connectivity, and a slew of performance technologies, the V60 is as advanced as it is primal.
The V60 comes with an audio system that will deliver you to a concert of your choice. Available Bowers & Wilkins-powered speakers give you an option of three listening modes, in an effort to maximize your listening experience. With over 15 speakers throughout the vehicle, this audio system needs to be heard to be experienced.
Test Drive the New V60 Near Hilton Head Island
The Volvo V60 is an experience in itself, giving the best of luxury and performance in one package. A sleek vehicle, it delivers powerful performance features and high-end luxury amenities.
To schedule a test drive in a new or used Volvo in the Beaufort area, contact Volvo Cars Hilton Head and come in to see what the new Volvo V60 is all about.
Hours
Monday

09:00 AM - 06:00 PM

Tuesday

09:00 AM - 06:00 PM

Wednesday

09:00 AM - 06:00 PM

Thursday

09:00 AM - 06:00 PM

Friday

09:00 AM - 06:00 PM

Saturday

09:00AM - 05:00 PM

Sunday

Closed
Make an Inquiry
* Indicates a required field